VESSELS: Bryan LeBoeuf
20 May 2004 - 26 June 2004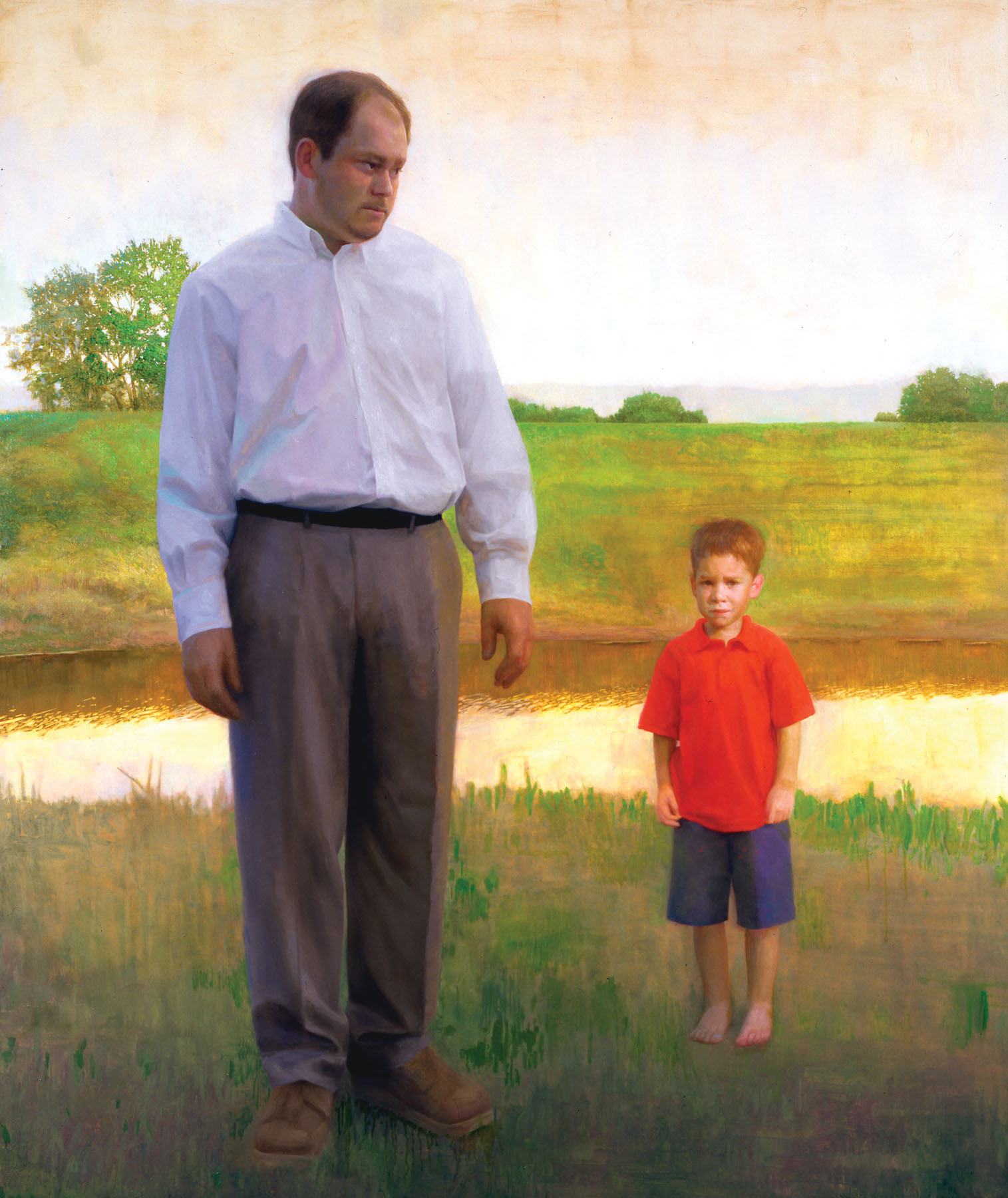 511 Gallery is pleased to present Vessels, a solo exhibition of paintings by Bryan LeBoeuf.
LeBoeuf is a visual narrator whose canvases tell tales of the lives, relationships, and landscapes of his native Louisiana. But the stories implied are universal, and the scenes are faithful representations of both the visual and emotional worlds inhabited by his "subjects."
In the life-sized Trois Bateaux, a young man in bathing trunks, his head bowed down and his face out of view and nonspecified, has just stepped from a sailing dinghy onto a bayou dock. His companion – or might she be his sister? – sits languidly on the edge of the dock, with one foot dangled in the boat. In the middle-ground just behind them is a half-sunk wreck of a fishing boat with its small cabin jutting out of the water; and in the deep background, on the main artery of the river, another fishing vessel moves along, glistening under hazy skies and one Vermeer-like ray of sunlight cast on the water. This would seem to be a simple story, a freeze-frame of a moment on a summer's day in the South: it might be happening on any dock at any time, a similar configuration of two people, three boats, a dock, trees, water, and sunlight. But LeBoeuf's narrative retains an open-ended and disturbing sense. One doesn't really know the beginning, middle, or end of this scene.
The virtual power of LeBoeuf's visual thinking is this ability to depict both the so-called real, or factual, world and the emotional underbelly of the visual world simultaneously. The vessels in these paintings may be watercraft, other types of containers, human beings-as-containers, or even physical features that "hold" a stance or a look. They carry the meanings of LeBoeuf's narratives, but, in the end, leave an ambiguity that provides the ultimate intriguing quality of the work.
Bryan LeBoeuf completed the Master's Degree program at New York Academy of Art's School of Figurative Art and now lives and makes work in Brooklyn. In 2003, he showed work at Brooklyn's Fishtank Gallery; and in June, his work will be included in the 6th Annual Realism Invitational at the Jenkins Johnson Gallery in San Francisco.